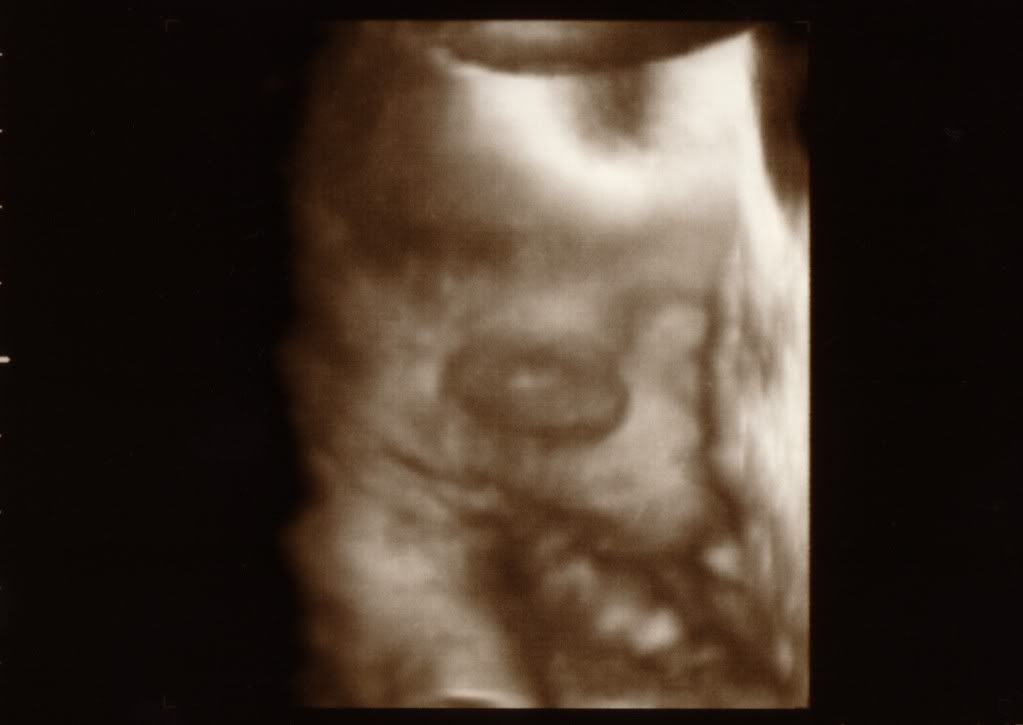 This is baby T's thirty week ultrasound photo. It was an amazing experience to witness a view of our unborn child's face weeks
before
birth. Our biggest first impression was how much this baby looked like Big Sister. He or she was not a generic, could-be-anybody's baby. This little one was already (and had been for quite some time) his or her own certain someone, growing and developing in the privacy of the womb. Then modern technology stole a peek.
Here is Baby T at home about a week after his birth. I think it's interesting how he much prefers to sleep on his side, hands tucked under his chin. Hmm, how very similar to his position in the ultrasound pic. In my last trimester, every time I lay down on the table at my prenatal appointments, the doctor would remark how he could see the outline of the baby showing through my belly--head down, back along my left side, legs tucked up on my right. Probably much the way he is in this photo.
These photos bring a couple of thoughts to mind..
We think of a person's life beginning at birth. But it is well documented how babies are born with strong preferences, formed from their experience in utero. Baby T has his favorite sleeping position, he was born already familiar with our voices and household sounds.
Photography is an amazing invention. Especially the kind that allows us to draw insight from what has been hidden for most of human kind's history--the development of a child not yet born.